I've visited lots of sites in the past few days with posts for Post It Note Tuesday. I was intrigued and wanted to try the first time I visited a site with a post for this meme. Hubby writes notes for me when he has to go somewhere like getting our lunch while I am sleeping. Well, I sleep late so I wake up late and he doesn't like waking me up to prepare foods for us. I do not like it too for stay up late to prepare his breakfast. So he writes notes and place it somewhere I can find. The purpose is for me not to worry of where he is plus it is kind of sweet.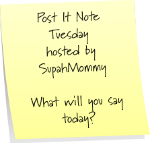 So now, I am giving myself a shot for this meme. If you want to join too, simply click on the "Post It Note Tuesday" badge above so you'll read information on how to join.
To make your notes, click
here
and then click on the badge above to be redirected to the site of the host where you can submit the link of your "Post It Tuesday" post.