It's right there, between my legs.
Since the day Chizka became a part of our family, I make sure she is on bed with us at night although sometimes she prefers to be lying flat on the cold tiled floor. I make sure I have a little space for her on my left while hubby on my right. Lately, she learned how to jump on and off the bed using hubby's footlocker placed by the other end of our bed. And everytime I lay on the bed to sleep, she would jump on the bed and do some sniffing on my face for a while and then lay on my lap which means "prepare my bed mama". She stays there until she falls asleep. Oh, it is hard sleeping like, you can't move! Anyway, this is my share for today's "Shoot Me". Thanks hubby dear for this shoot!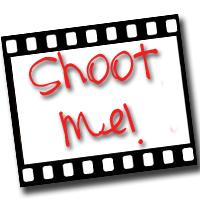 Join this meme by posting a photo of you with a child, spouse, friend or even by yourself every Thursday. Simply click on the badge to learn more about how to join and visit other "shoot me" participants.