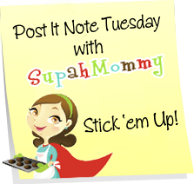 It is another Post It Note Tuesday fun!
To make your notes, click
here
and then click on the badge above to be redirected to the site of the host where you can submit the link of your "Post It Tuesday" post.
I would like to thank my husband for helping me with this post this morning. We bond early morning. He was extra caring and sweet this morning for some reason I didn't know. I am wondering! There must be something bad he did that I do not know. Hmmn?