I missed '
shoot me
' last week. I was busy tweaking my own blogs. If you do not know yet, when it comes tweaking blogs, I won't stop until it is perfectly finished. So it was the tweaking that kept me from digging my files to find a picture of me for the meme. To make it make up with you, here are photos of me.
I thank my youngest sis for taking these pictures of me. I bet these were taken last February. This was one of those nights when the city suffers power shortage and we had no choice but bond downstairs with a cooler atmosphere and entertain ourselves with play cards using a battery-operated lamp as light.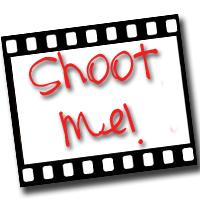 Join this meme by posting a photo of you with a child, spouse, friend or even by yourself every Thursday. Simply click on the badge to learn more about how to join and visit other "shoot me" participants.