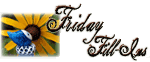 1. The last band I saw live was
6 Cycle Mind
.
2. What I look forward to most on (Thanksgiving)Christmas
is the midnight mass then a complete family dinner.
3. My Christmas/holiday shopping
is mostly kids' stuffs, for my godchildren
.
4. Thoughts of
being complete this Christmas
fill my head.
5. I wish I could wear
Ms. Santa's attire this Christmas eve
.
6. Bagpipes
is the music instrument I wouldn't dare to play.
7. And as for the weekend, tonight I'm looking forward to
sleep early if I'll still feel crampy
, tomorrow my plans include
visiting my parents and siblings
and Sunday, I want to
mess up with the laundry ( i hate it)
!

First Commenter