Shoot me, I am back! I've been absent for more than a month and here is my comeback shoot.

It's a stolen shot of me and two of my friends. The other friend of mine was able to notice the camera that she gave her cutest smile but the three of us totally ruined the picture. See how funny my pose was? Or do you know where I am in the picture? In case you don't know, I am the one who has the pink pouch. I laugh out loud the first moment I saw this photo, my pose is just so funny. This, by the way was taken during our high school's alumni homecoming last December 30, 2010 held in our school campus. If you noticed, we are wearing printed shirts in the picture. It is our batch 2003 t-shirt and I am proud to say, I am the person behind the design of the print.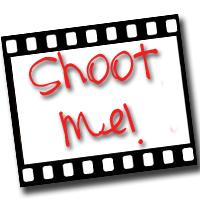 Join this meme by posting a photo of you with a child, spouse, friend or even by yourself every Thursday. Simply click on the badge to learn more about how to join and visit other "shoot me" participants.