I haven't sleep yet since yesterday morning. Tsk, I am being a wonder woman again. Just a while ago I had a fun victory against superman. It was a victory I much deserved.
Okay, enough with that super powers talk...it's time for my photo shoot for '
Shoot Me
'.
These photos were taken together with that ice cold treat, 'mais con yelo' I posted in my previous blog post. It is my youngest sister with in the pictures. We are partners these days. I thank her so much for spending her school vacation with me when, supposedly, she should be home with our parents. We took these shots of us before heading to Video City to return two 'Dalaw(Visit)' movies, which we rented the day before.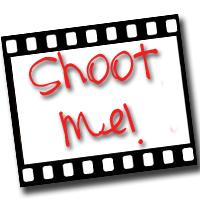 Join this meme by posting a photo of you with a child, spouse, friend or even by yourself every Thursday. Head on to the
Diary of A Church Lady
to join.