As promised here are more photos taken at our reunion. This post continues my share last week on "shoot me".

When it comes to food, I won't back out. I am always the first to attack the table then later on do some counter attacks to hit the spot big time. I applied those said attacks on our reunion, of course.
Well, I have a reason why I filled my stomach good that day because I know there'll be a lot of drinking to do. Alcohol drinking to be exact. Here are some more photos:
It was fun meeting with my cousins, exchanging hellos and how are yous, and then getting drunk. We started drinking "The Bar" gin, then beer, then gin again and rhum and then gin. We finished drinking around 2 in the morning from the time we started which was after lunch. I was freaking drunk that I threw up and felt like almost throwing up my throat. In the morning I woke up in mom's room and I did not know how I got there.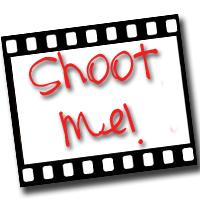 Join this meme by posting a photo of you with a child, spouse, friend or even by yourself every Thursday. Simply click on the badge to learn more about how to join and visit other "shoot me" participants.