It's a cool night here in Dipolog. It's been raining since this late afternoon. The rain was heavy earlier and now only a shower but I am expecting it'll drop heavy again later tonight. As I mentioned in my other blog, I switched the computer off earlier than its sleeping time last night because of the heavy rainfall accompanied by loud thunder and sharp lightning. Thunder and lightning always scare me and to think I was all alone last night because my siblings went home. Well, I am as well alone tonight so I'll make sure I'll sleep before heavy rain falls, lighting strikes and thunder screams.

Anyway, it's Thursday, time to share a photo with me on it. Below is my share:

This photo was taken several weeks ago by my sister when we were left alone. Our brother at that time was at our parents' or at his girlfriend's house. My sister and I had a nice bond that night. We played computer games and when my back got tired I jumped on the bed and played the game on the phone instead. Then my sister called me and 'shoot'. She said I have to keep this photo of me as a record of me losing a bit of weight. Lol! I have no most recent photo of me so let me just share this one. I need to take a new shoot of me to check how I progress in my journey of losing some fats off my body but I don't feel like taking picture of myself tonight for I haven't had a shower yet. Maybe tomorrow.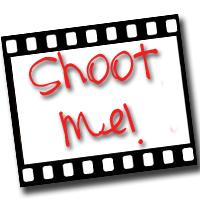 Join this meme by posting a photo of you with a child, spouse, friend or even by yourself every Thursday. Simply click on the badge to learn more about how to join and visit other "shoot me" participants.